We've always been a nation of pet lovers, but due to the effects of the pandemic, we've seen an astounding number of people impulse buying pets to keep them company whilst they're at home. The demand for puppies increased at a drastic rate during the peak of lockdown and the supply of new puppies struggled to meet the demand. This led to an alarming number of people buying puppies online with little or no consideration about how their life will be impacted in the long run. The market for puppies is bigger than ever and over 400 adverts are being listed daily on sites like Preloved and Pets4Homes. Under normal circumstances, most people would thoroughly research where they're getting the pet from and think about the long term financial costs, but it's clear that many people have been buying new pets on a complete whim. It seems we've become more careless than ever.
What the research suggests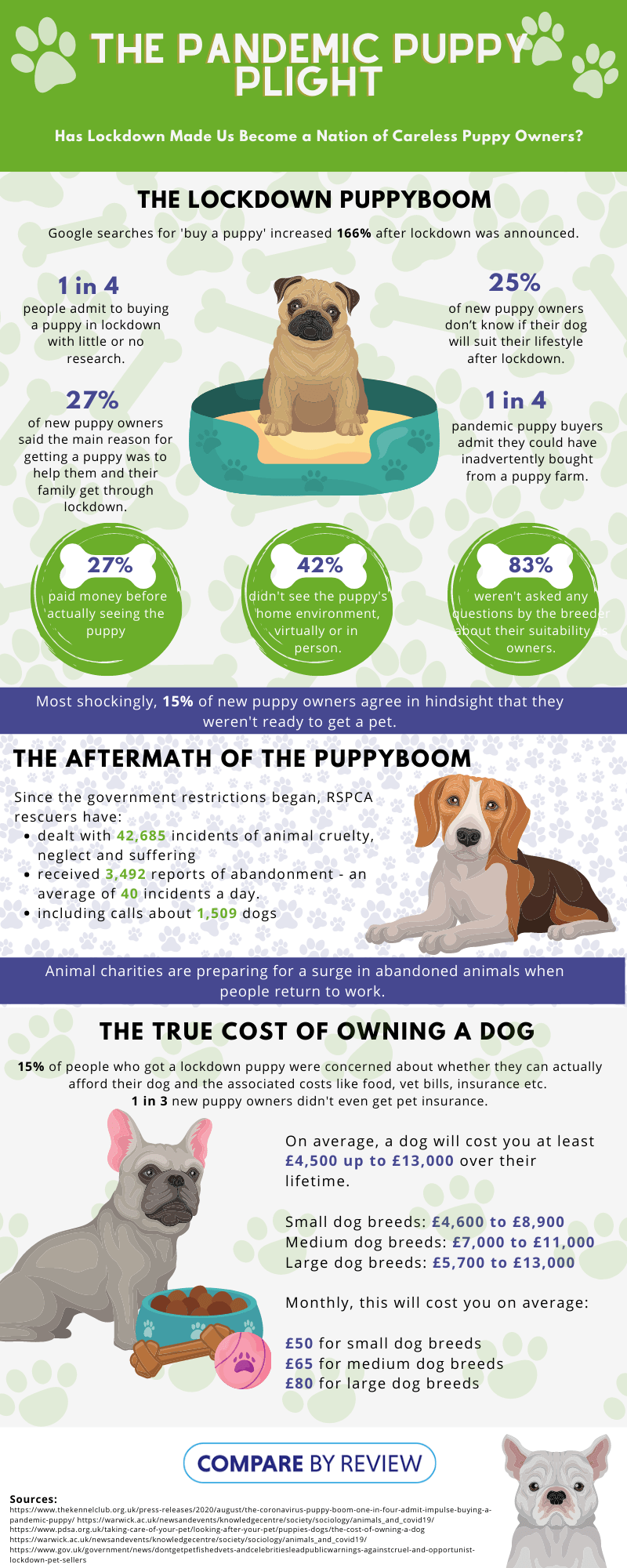 We've taken a look at independent research from across the UK to shed some light on how we, as a nation, have become more thoughtless about buying a new puppy. Since lockdown was announced in March, Google searches for 'buy a puppy' increased 166% and The Kennel Club saw a 180% increase in enquiries from potential dog owners. Adverts posted across online marketplaces during lockdown for puppies, dogs, kittens and cats also increased 125%.
According to the research, one in four people admit to buying a puppy in lockdown with little or no research. 27% of new puppy owners said the main reason for getting a puppy was to help them get through lockdown and a shocking 25% don't know if their dog will suit their lifestyle after lockdown.
Any reputable breeder will arrange for you to see the puppy in their breeding environment before taking them home but 42% of pandemic puppy buyers didn't see the breeders home virtually or in person. And shockingly, one in four people admitted that they could have inadvertently bought from a puppy farm. 27% paid money before even seeing the puppy and between March and April, 669 people were scammed out of £282,686 after paying deposits for pets that were advertised online. 83% weren't asked a single question by the breeder about their suitability as puppy owners and another concerning statistic showed that 15% of new puppy owners agree in hindsight that they weren't ready to get a pet.
Since the government restrictions were introduced, RSPCA rescuers have dealt with 42,685 incidents of animal cruelty and received 3,492 reports of abandonment, including 1,509 dogs, 1,165 cats, 299 small furries such as hamsters and 275 exotic pets. The RSPCA is bracing itself for a significant surge in abandoned animals and fears that the fallout from the pandemic could see more owners struggling to keep their pets. And Dogs Trust is predicting that more than 40,000 dogs could be at risk of abandonment in the fallout of the coronavirus crisis.
15% of people who got a puppy in lockdown were concerned about whether they can actually afford their dog and the associated costs such as food, vet bills and pet insurance. One in three new puppy owners didn't even get pet insurance. In its entire lifetime, a dog will cost you at least £4,500 up to £13,000. On average, small dog breeds cost £50 a month, medium dog breeds £65 and large breeds can cost you as much as £80 a month, not including vet bills.
How animal charities are helping
What the government are doing
After noticing an increase in people looking to purchase pets during lockdown, the UK government launched a campaign in July urging the public to stop and ask: 'Who's the person behind the pet?'
In an open letter that has been supported by animal charities including Dogs Trust, Cats Protection, Battersea Dogs and Cats Home, the Blue Cross and the RSPCA and signed by celebrities like Paul O'Grady, Amanda Holden, Kirsty Gallacher and David Gandy, the government is calling on the public to be more mindful and thoroughly research the seller before buying a pet online.
The British Small Animal Veterinary Association (BSAVA) has reported a spike in the number of sick puppies and kittens that are being brought to vets due to new owners not doing enough research and buying pets from unscrupulous breeders. UK Chief Veterinary Officer, Christine Middlemiss, said:
"Prospective pet owners must beware of sinister sellers out there who breed animals purely for profit with zero concern for their welfare. The devastating consequences include crippling vet bills, and, in the worst cases, animals having to be put down. It's vitally important that people not only research the breed of animal they want but also the person selling it to them."
BSAVA president, Ian Ramsey, added:
"Vets are continuing to see many owners who have been sold very sick puppies by unscrupulous dealers simply because new owners have not researched the seller before buying their pet. As a result, vets see first-hand the distress and upset this can cause owners. We would urge anyone thinking of buying a puppy or kitten to check their pet is coming from a responsible seller before making a decision to buy."
The government is warning people about being 'Petfished', a play on the term 'catfishing', where strangers adopt a fake persona online to lure someone into a relationship. Similarly, deceitful pet sellers use the same tactic to 'Petfish' unsuspicious buyers. To avoid this, the government's campaign urges people to spot vital red flags when looking for a breeder with the help of the acronym S.P.O.T:
Seller
Once you've found a seller, put their name and phone number into a search engine. If the result brings back multiple adverts from the same seller, you should be suspicious.
Parent
Arrange to see the puppies or kittens in their home with their mother, whether it's in person or virtually. Reputable breeders should offer you the opportunity to visit their home.
Old enough
Check that the puppies and kittens are at least 8 weeks old before you bring them home.
Treatment
Check that the animal's health records are up to date. If the seller won't provide you with the pet's health records then you should avoid buying from them.
If you're looking to get a new pet, you can get guidance and advice on the Petfished campaign by visiting getyourpetsafely.campaign.gov.uk.
Further to this, the government introduced a landmark new legislation on 6 April to put a ban on third-party puppy sales in the UK. This new law goes by the name 'Lucy's Law' and means that anyone wanting to get a new puppy or kitten in England must now buy directly from a licensed breeder, or adopt from a rescue centre. Anyone selling puppies or kittens without a licence could receive an unlimited fine or be sent to prison for up to six months. This law has been ten years in the making and seems to have come to fruition at the right time.
The law gets its name from a Cavalier King Charles Spaniel named Lucy. Lucy was rescued from a puppy farm where she was subjected to terrible conditions. Most puppy farms in the UK rely on third-party sellers or 'dealers' to distribute puppies or kittens who are often sick, unsocialised and traumatised due to being taken away from their mother at just a few weeks old. The puppy is then often transported long distances having suffered life-threatening medical, surgical or behavioural problems which are passed on to its unsuspecting new owners. Lucy's Law makes it illegal for a third-party dealer to be involved, resulting in all dog and cat breeders becoming accountable for the first time.
Marc Abraham, media vet, author, founder of Pup Aid and the Lucy's Law campaign said:
"I'm incredibly proud to have led the 10-year campaign to ban cruel puppy and kitten dealers and to get this essential Lucy's Law legislation over the line. I'd like to give a huge thanks to UK Government for passing this law, as well as every animal-loving parliamentarian, celebrity, welfare organisation and member of the public that supported us. Lucy was an incredibly brave dog, and it's right that her memory is honoured with such an important piece of legislation to help end puppy farm cruelty; protecting breeding dogs just like her, as well as cats, their young, and also unsuspecting animal-lovers from the dangers of irresponsible breeding and cruel puppy and kitten dealers."
Expert advice for people looking to get a new pet
As highlighted by the government, it's more important than ever to be vigilant if you're buying a new pet during this time. Both Dogs Trust and the RSPCA have expressed concerns for the number of criminal gangs who are willing to exploit the situation in order to make a profit. With an increased demand for puppies and sellers hiking prices, it's created a lucrative market for puppy smugglers. Dogs Trust's Veterinary and Campaigns Director Paula Boyden told us:
"It's shocking to see how much dogs are being advertised for sale online and in particular how prices for some of the most popular smuggled breeds have increased during the coronavirus lockdown. While there are many responsible sellers out there, sadly there are plenty who are just looking to tug on the heartstrings and exploit the situation for their own profit.
"With puppies in such high demand, and selling for such high prices, it's creating a lucrative market for cruel puppy smugglers and, sadly, we have rescued many dogs illegally imported into the country, destined to be sold during lockdown. It's also creating a perfect storm for people to be Dogfished and scammed out of their hard-earned money."
A spokesperson for the RSPCA said:
"We'd urge anyone thinking of getting a new pet to think long and hard about whether they can properly care for that animal, not just now but into the future when restrictions are lifted and their lifestyles become more busy. If people do decide now is the right time to get a pet, then we'd always urge them to consider adopting instead of buying an animal. We still have thousands of animals in our care at the moment and have restarted rehoming some animals in England and Wales with strict measures to keep our staff and the public safe."
Both Dogs Trust and the RSPCA highlighted the importance of making multiple visits to see the puppy and its mum interacting. And both advise that if something doesn't seem right, you must walk away and report the seller, as hard as that might be.
Dos
Do your research beforehand
Buy from a Kennel Club assured breeder
Ask the breeder lots of questions
Visit the puppy multiple times
See the puppy's mum and watch her interacting with her litter
Ask to see all paperwork (license, vaccination records etc.)
Check that all vaccinations are up to date before you bring them home
Make sure the puppy is at least 8 weeks old before you bring them home
Don'ts
Pay cash
Buy a puppy online that you haven't seen in person
Buy from a pet shop
Buy from a puppy farm because you think you're saving it
Buy a puppy on a whim or as a gift
Collect your puppy from a random location or have it delivered to you
The importance of pet insurance
Research shows that one in three people that bought a puppy in lockdown didn't purchase a pet insurance policy. Whilst pet insurance might seem like a big monthly commitment, all new pet owners should seriously consider taking out a policy. If your puppy got into an accident or injury, do you have enough savings to cover the vet fees and any treatment they might need? If the answer to this question is no, then not taking out pet insurance could be a costly mistake.
Unexpected vet bills can easily run into the hundreds with the average pet insurance claim costing an overwhelming £750. On average, a dog insurance policy costs £28 a month so it would take you just over 26 years of paying your monthly pet insurance bill to reach the cost of the average pet insurance claim. And when you consider your dog's life span, it really seems like a no brainer.
If you're looking for pet insurance for your puppy, our comparison table highlights the best providers based on real customer experience and product quality. We believe that the typical insurance buying journey is flawed as it encourages users to pick the cheapest policy on the market. Most people overlook the finer details of the policy and don't take the time to thoroughly understand what is and isn't covered. We're challenging that by giving you an impartial and unbiased overview of the market so you can purchase pet insurance from a high-quality provider that you can rely on when you need them most.
1st
Our
Review Score
9.2
/10
based on 90595 reviews
2nd
Our
Review Score
8.9
/10
based on 6036 reviews

3rd
Our
Review Score
8.9
/10
based on 76515 reviews