*This is a single trip quote for 7 nights in Spain based on a 30-year-old traveller.
**This is an annual policy with worldwide cover, including USA based on a 30-year-old traveller.
***This is the maximum amount of medical cover this provider offers.
****This is the maximum amount of cancellation cover this provider offers.
All travel insurance quotes are provided via Quotezone, who are FCA regulated. Please note that some of the providers included within our table are not currently offering new policies.
The British public are firmly committed to their holidays with 64% of people taking time away from the general 9-5 to holiday abroad each year. Travel insurance plays a large part in making sure you have an enjoyable and fuss-free break. Not only does it give you peace of mind while you're away, but it also allows you to enjoy your holiday to the fullest.
Whether it's a getaway destination weekend, or an adventure packed two week holiday, each trip needs a specific level of cover that's tailored to the type of holiday you're going on. Whilst city and beach breaks continue to be the nations top two favourite holiday types, experience led breaks are increasingly popular with 11% of holidaymakers choosing lake and mountain adventure experiences, however, with this type of holiday comes an increased need for travel insurance.
UK holidaymakers have a very discerning palate when it comes to their holiday plans. With over 55% staying in high-end accommodation and 37% travelling via premium economy or a higher class, it begs the question why aren't holidaymakers taking such care of their holidays?
In light of recent travel chaos and highlighted stories in the media, we surveyed a selection of British holidaymakers to dig deep into their insurance buying habits and unearthed some shocking revelations!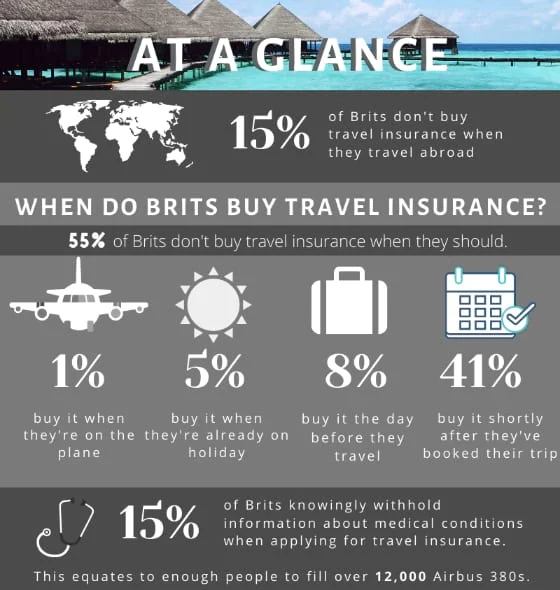 When buying any type of insurance, most people opt for the cheapest price and don't take the quality of the policy or provider into consideration. At Compare by Review, we believe that cheap travel insurance isn't necessarily the best travel insurance and while you might make a small saving, it can lead to a nasty shock when you make a claim. Our travel insurance comparison table ranks providers exclusively on customer experience and product quality so you can purchase the best quality travel insurance from a provider that you can rely on when you need them most.
We're on a mission to change the traditional insurance buying journey. Unlike other travel insurance comparison websites that highlight the cheapest providers, we encourage you to read the best travel insurance reviews when purchasing a policy so that you can get an idea of the quality of service that insurers deliver. Take a look at our table at the top of this page to compare travel insurance in the UK and see who the best travel insurance provider is.
If you're going abroad, travel insurance is an absolute essential. It's not a legal requirement but you could be facing a huge financial loss if you travel without it. Research conducted by Compare by Review found that 15% of Brits don't buy insurance when they travel abroad. Having a quality travel insurance policy is as key as having your sun lotion and swimmers packed and ready in time before your holiday begins. Of 71.7 million visits overseas by UK residents in 2018, over 10 million of those trips were taken uninsured. The travel insurance industry paid out a whopping £400 million in 2018 to those travelling abroad.
Cancellation

– 167,000 claims, paid out £145 million, average claim £869

Emergency treatment

– 159,000 claims, paid out £201 million, average claim £1,368

Lost Luggage

– 79,000 claims, paid our £17 million, average claim £214
These uninsured holidaymakers are putting themselves at serious financial risk. When it comes to emergency medical treatment, costs can really spiral. It can cost as much as
£233,000

medical bill for a 15-day hospital stay in the US following a stroke

£118,000

to pay for surgery and hospitalisation in East Africa following treatment for a blocked windpipe caused by food

£187,000

to cover a 33-day stay in a Las Vegas hospital, several outpatient appointments and a flight back to the UK following a heart attack
Are you amongst the 38% of people that we surveyed who weren't aware that holiday travel insurance covers you from the moment you buy it, not from the day you travel? It's recommended that you take a policy out as soon as you book your holiday to cover the lead up to your holiday. There are many reasons why your holiday might not go ahead as planned and you may have to cancel your trip entirely. If you have a travel insurance policy in place well in advance, you're covered for cancellation and you're more likely to get your money back.
Our research also found that 10% of Brits take out their insurance just before they step on the plane with a shocking 5% of people only remembering to insure themselves once they arrive at their destination. The key to getting the most out of your cover is to have it in place as soon as you've booked your trip. If you purchase your insurance policy as soon as you book your holiday, you're covered from that moment. If you buy your insurance at a later date, then you're only covered from the day you buy it resulting in you being open to financial risk if you fall ill or if the travel company you booked with goes bust before your policy starts.
These 10 million tardy insurers are not only leaving themselves open to pre-holiday financial risk, they're running the very real risk of buying an inflated, unworthy and hastily chosen policy meaning that they might not even be fully insured.
The most common reasons for not taking out insurance as soon as your holiday has been purchased are:
Not aware of the benefit of pre-trip cover
Put it on the to-do list along with 'organise currency'
Sceptical that it won't pay out if they needed to claim
Can't afford it at the time
Naive in thinking that nothing will happen to them when they're abroad
They think their health insurance covers them abroad
They think they're covered by their bank account or another service
You can buy holiday travel insurance directly from an insurance provider or you might find that you already have it included in another service you pay for. Of the 86% of people that buy travel insurance that we surveyed, 49% buy tailored travel insurance from a provider, whereas 35% of holidaymakers rely on cover through a separate service i.e their bank (19%). Interestingly, more and more people are now relying on travel insurance being included within other services they have, such as their home insurance or their bank accounts. These package accounts are an attractive and convenient way of bundling together various policies, however, it's key to know exactly what these policies cover and if that cover suits your travel plans. In some cases, these additional extras end up costing you more compared to if you took some time to shop around and bought each element individually. In some cases the level of cover these 'add ons' include are intentionally high end and offer a level of cover you wouldn't need. However, there have also been cases where the quality of cover provided through bank accounts has fallen short of what you'd expect. Ryan Howsam, Staysure chairman, said:
"Last year we commissioned a first of its kind industry report uncovering the pitfalls of banking travel insurance which found 3.3 million British holidaymakers over the age of 50 unknowingly travelling abroad without adequate cover when relying on policies offered as an incentive from their high street banks. Worryingly this type of 'one size fits all' product often doesn't cover older travellers or those with pre-existing medical conditions – this is a small print factor regularly missed by consumers. Anyone travelling should seek cover from a specialist insurer to purchase the right travel insurance that is tailored to their individual needs. Check that the policy is right for your age, covers your medical conditions and offers good levels of medical emergency limits which will protect you from the extortionate hospital bills that can rack up abroad if you're taken ill."
With all policies, you need to make sure that if the worst were to happen, it will pay out. You need to read the terms and conditions thoroughly before you buy a policy and ensure that you know exactly what is and isn't covered before you travel. The most common reason for insurance claims not being paid out is due to the policyholder withholding information about pre-existing medical conditions. It's key to be as transparent as possible, regardless of whether your account is with a specific insurance provider or part of a utility package.
Think about the cover and not just the price
Cheap holiday insurance isn't always the best holiday insurance. Sometimes the cheap option will let you down when it comes to claiming. By spending that little bit extra you will likely have a far more comprehensive cover that will not only pay out, but also make sure that all eventualities are covered such as theft, unexpected emergencies and natural events.
If you don't understand the jargon, ask
Make sure you read your policy from cover to cover to make sure it won't let you down if you need to claim. Most providers will have a cooling off period so even after purchase, if you find an issue, you can cancel.
Check your excess
Make sure you compare the excess, this is especially important when you're looking to save on your policy as this can sometimes lead to a costly claim on your return. In some cases, the excess can be applied to each type of claim. If you're mugged on holiday you may have to claim under the medical category, the personal property section and loss of money category in your policy.
Make sure all family members are covered
There are a few instances where your loved ones may not be covered. If you've purchased a family policy, it may be invalid if a member of the family travels independently. Your family policy may also be invalid if you're travelling with a step child that doesn't permanently live with the policy holder
Are you doing any activities?
If you're looking to take part in any activities while on holiday, check that that particular activity is covered on your policy before you travel. Different providers consider different activities as high-risk so something that you might expect to be covered, such as mountain biking, may not be.
Are your belongings covered?
Most policies cover lost and stolen personal belongings and baggage up to a certain amount. Many also have a total valuable limit with applies regardless of the value of the single item. Another definition to be aware of is 'single article limit' this is the maximum amount that will be covered for each item. If you have expensive equipment and belongings such as cameras and jewellery check they are covered before you travel.
Are you covered for airline or hotel failures?
If you're booking a package holiday make sure it's ATOL covered (Air Travel Organisers Licensing). If your tour operator or hotel goes bust you will have the choice to receive a full refund or the chance to finish your holiday. If you're booking your own holiday you will need to check your policy to see if you're covered for disruptive situations. If not, you should be able to add it on to your policy as an extra for an additional charge.
Cancellation cover
If you need to come home early or cancel your trip, make sure you have the appropriate cover. Your cover will only pay out if you fall into one of their specific categories such as a close relative has fallen in, you are requested to come home or stay at home by the police, you have been called for jury service or have been called as a witness.
Check your destination
If you're planning on crossing a border on holiday (i.e USA to Mexico, Germany to France) make sure your policy doesn't restrict you to just one country. If a Commonwealth or Foreign Office has warned against travelling there, your travel insurance policy will be invalid.
Check the time on your policy
Make sure the entire length of your stay is covered. If you're travelling for more than 90 days, check your policy or shop for a long stay policy.
Do you need a specialist policy?
If you have a medical condition or are aged over 65 you may need a specific policy.