What do I do if I miss a flight or connection?
If you miss a flight due to being late to the airport, you should go straight to the check-in desk when you arrive at the airport and inform the airline. Most airlines will put you on standby for the next available flight if you arrive at the check-in desk within two hours of your original flight time. If you're late due to a fault of your own, you won't be able to claim on your missed flight insurance.
When can I claim on my travel insurance for a missed flight?
Most insurance companies are likely to pay out if you miss your flight due to:
Your car breaking down on the way to the airport
Public transport delays
Adverse weather
However, like all insurance policies, there are a number of reasons why an insurance provider might reject your claim. Your claim is unlikely to be accepted if:
You overslept
There are protests that were publicly announced in advance
There's heavy traffic due to roadworks
You didn't allow yourself enough time to get through security and to the gate
You refuse different flights or compensation offered to you by the airline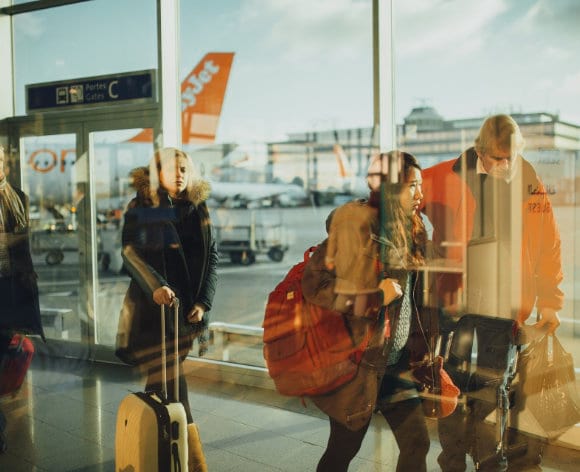 How do I claim on my missed flight travel insurance?
In order to make a claim on your travel insurance cover for a missed flight, you need to be able to prove that you missed your flight due to matters out of your control. It's best if you have supporting evidence to show why you missed your flight as this will increase your chances of a successful claim. This could be:
Testimonies from eyewitnesses

Confirmation from a breakdown company that your car was involved in an accident

Photo or video evidence if you were delayed due to a road accident or severe weather conditions

Confirmation from

Highways England

or the

Department for Transport

that there was a road traffic incident on the road you were travelling on
What happens if I miss a connecting flight?
If you miss a connecting flight due to a fault of the airline, such as a cancellation, they're responsible for getting you on a different flight and you won't be able to make a claim through your travel insurance. However, bear in mind that if you've booked flights with two separate airlines and the first airline made you miss your connecting flight, the connecting airline isn't responsible and you'll have to make arrangements for a new flight. Typically, insurance providers won't cover you for missed connections caused by airlines. There are some occasions where you'll be covered, make sure you check your travel insurance has missed connection insurance cover included before you travel.
Compare travel insurance providers
Compare travel insurance providers and get a comprehensive travel insurance policy Compare by Review. We're the first and only comparison site that ranks travel insurance providers exclusively on customer experience and product quality rather than price. Our full table of insurers will give you an impartial and unbiased overview so you can purchase travel insurance from a high-quality provider that you can rely on when you need them most.
1st
Our
Review Score
9.4
/10
based on 289216 reviews

Medical Cover Limit***
No limit
Cancellation Cover Limit****
£5k
2nd
Our
Review Score
9.2
/10
based on 294390 reviews

Medical Cover Limit***
£15m
Cancellation Cover Limit****
£5k
3rd
Our
Review Score
8.9
/10
based on 74926 reviews

Medical Cover Limit***
£20m
Cancellation Cover Limit****
£3k