What is Monzo?
Monzo is a digital-only bank that's designed to make the way you spend and save money easier.
Monzo works just like a traditional bank but it offers so much more to its customers. When you apply for a Monzo current account, you'll be issued a coral Mastercard that can be used for free almost anywhere in the world. You can easily track your spending and savings in the app. The only difference to traditional banks is that you can't physically visit a branch. However, if you lose your card, you can freeze and unfreeze it in the app. You can also contact Monzo's customer services team in the app via live chat if you have any questions or problems
What accounts does Monzo offer?
Monzo currently offers four types of accounts:
Monzo Current account
A full UK current account with no fees. You can spend and withdraw money anywhere around the world that accepts Mastercard and manage your spending in the Monzo app.
Monzo 16-17 account
A Monzo bank account designed specifically for teenagers with almost all of the features that the current account comes with. The major difference is that Monzo has blocked spending on things that are illegal if you're under 18, such as gambling.
Monzo Joint account
So long as you both already have a Monzo current account, opening a joint account in the app is easy. You'll both receive a new Monzo joint account card and you can see who's made each transaction so it's easy to see exactly where your money's going. You can both set monthly spending budgets and you'll be sent notifications if it looks like you're spending too fast.
Monzo Business account
Choose from either Business Lite, a free account or Business Pro which costs £5 per month. You can apply for an account if you're a sole trader or registered limited company by shares in the UK, and only pay tax in the UK. If you already have a Monzo current account, you can apply for a business account quickly and easily in the app.
How do I open a Monzo bank account?
To open a Monzo bank account, you need to live in the UK and be at least 16 years old. All you need is a smartphone and a valid proof of ID in the form of a driving licence, passport or National ID card. Simply download the app in the Google Play Store or Apple App Play and enter some personal details such as your home address, full name and date of birth. In order to verify your identity, you'll be required to submit a selfie video alongside a photo of your ID. Once your account has been verified, you'll be sent a Monzo card in the post, this should arrive in a couple days. But if you can't wait to use your account, you can add your card to Apple Pay or Google Pay and use it instantly.
What does the app look like?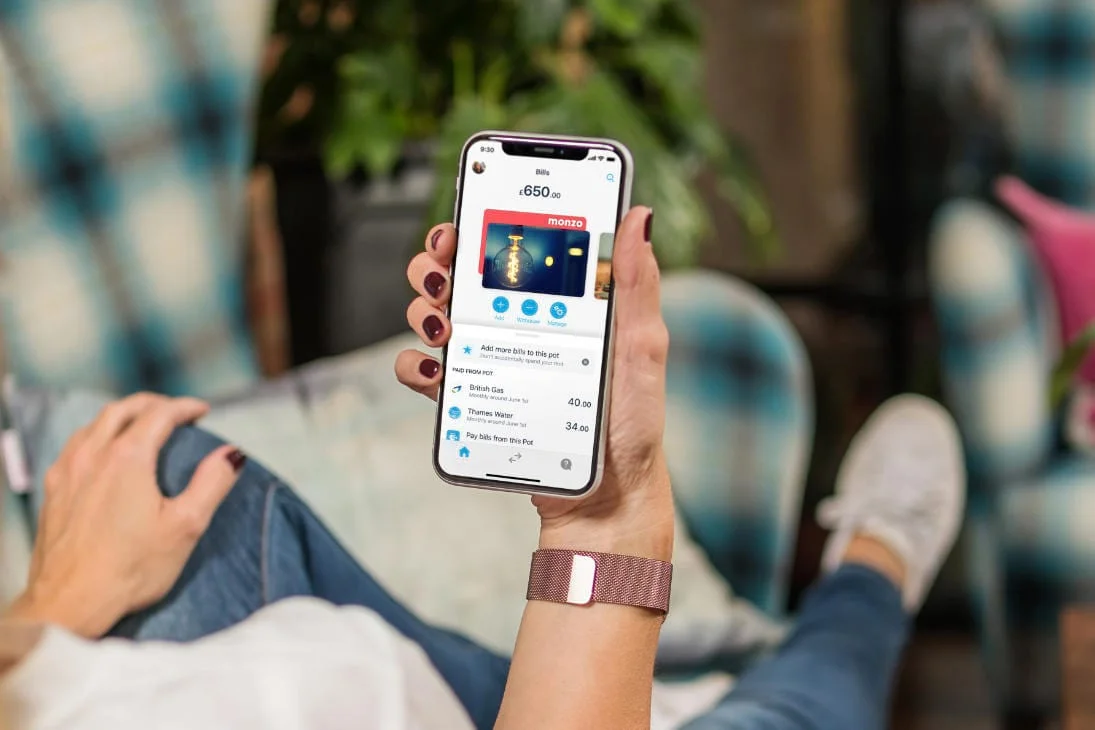 What features does Monzo offer?
Get paid a day early

– have your salary paid into Monzo and they can advance your cash early at no additional cost.

Salary Sorter

– manage your money between savings, bills and spending so you don't overspend each month.

Bills Pots

– set aside your bills money in Pots so you don't accidentally spend it. When a bill is due, it's paid straight from the Pot for you.

Instant notifications

– get instant notifications to your smart device the second you spend.

Direct debits

– pay direct debits from your Monzo account and they'll notify you if they're higher than usual for the upcoming month.

Round-up transactions

– round-up your transactions to the nearest pound and the remainder automatically goes into savings pots.

Fee-free spending abroad

– Monzo use Mastercard's exchange rate and there are no additional fees on top.
Does Monzo do credit checks?
When you apply to open a Monzo account, they will run a quotation search, otherwise known as a soft credit check. The soft check is to determine if you'd be eligible for an optional overdraft and it won't have an impact on your credit score. If you pass the soft check, Monzo will give you the option to apply for an overdraft and if you do apply, a hard credit check will show on your credit report.
Can I get an overdraft or loan?
Yes, you can get an overdraft or a loan if you have a Monzo account. If you're eligible, you could get an overdraft of up to £3,000 and you can change the limit or cancel the overdraft. Interest is accrued at a rate of 19%, 29% or 39% EAR (variable) and you won't be charged any hidden or late fees.
Monzo also offers loans of up to £3,000 that can be paid back over three years or less. You can use the sliders in the app to choose how much money you want to borrow and choose a repayment date that suits you. You can also change the repayment date if you need to and there's no fee for doing so. If your loan is accepted, the money will be available in your account and ready to spend on the same day.
Whether it's a loan for a new car, a wedding or home improvements, you can give your loan a name in the app and add an image. The loan sits alongside your pots so you can see the progress you're making paying it back. You won't be charged any additional fees for paying your loan back early or making extra repayments.
Does Monese pay interest?
Yes, you can earn interest on your savings. Monzo pays up to 1.31% (AER/Gross fixed) interest on your savings. That interest rate applies to a 12-month fixed pot with a £5000 minimum deposit to open. Fixed means that your savings will be locked away for 12 months and while interest is earned on it. Monzo also offers easy access savings which let you get your money back the next working day if you need it.
Yes, you can use your Monzo card anywhere in the world, in any currency with absolutely no additional fees. Monzo uses Mastercard's exchange rate and doesn't add fees or charges on top. Cash withdrawals from an ATM are free in the European Economic Area (EEA). And in any other country, you can withdraw £200 for free every 30 days. Once you've exceeded the £200 limit, you'll be charged 3% for all cash withdrawals. This is because it costs Monzo every time you withdraw cash abroad, so they're simply covering their costs and aren't profiting from the 3% charge.
You don't need to let Monzo know every time you travel, there's no chance of your card being blocked and leaving you stranded with no way to pay. When you arrive in a new country, Monzo will send you a notification to let you know the current exchange rate, offer you tips on travelling with your Monzo card in that country and let you manage your holiday budget within the app.
Can I pay cash and cheques into my account?
It's easy to pay cash and cheques into your Monzo account. You can send cheques to Monzo for free to FREEPOST MONZO. All they ask ifs that you write your 8 digit account number on the back of the cheque and that the name on the cheque matches the name on your account. It takes 7-10 days for the cheque to reach Monzo and 4 working days to process. You'll receive a notification in the app when they start processing your cheque.
If you want to pay cash into your Monzo account, you can deposit it at any of the 28,000 PayPoint locations in the UK. To deposit cash simply visit a shop that has a PayPoint, tell the cashier that you're posting cash into your Monzo account, hand over the cash and your card and the cashier will swipe your card and return it yo you with your receipt. There's a £1 fee for depositing cash which covers the cost of the service. This is automatically deducted, for example, if you deposit £100, £99 will appear in your account. You can deposit between £5-300 in one go, and a maximum of £1,000 every six months. However, if you have a 16-17 account, the maximum limit is £500 every six months.
Yes, Monzo is a regulated bank in the UK and any money in your account (up to £85,0000) is protected by the Financial Services Compensation Scheme (FSCS). So if Monzo were to go bust, you won't be left out of pocket.
The app is also safe and secure. Monzo doesn't use passwords to protect the app for a number of reasons. Instead, when you log into the Monzo app, a link will be sent to your email that lets you log in when you open it. This makes logging in quick and simple and you don't have to remember a password. For added protection, Monzo asks for your PIN whenever you want to move money in your account. If you forget your PIN, Monzo asks you to record another selfie video to make sure it's you that's requesting the new PIN.
Monzo also uses 3D Secure to make it safer when you make purchases online. You've probably experienced 3D Secure when paying for things online with your traditional bank. It's a pop-up in the browser that asks you to enter a passcode before you make the payment. However, as Monzo don't use passwords, you can verify your purchase in-app or by text instead. This lets Monzo know that you have access to your phone, your app and your card details and confirms it's really you making the purchase.
Switching to Monzo is easy with The Current Account Switch Service. Make sure you have the account number, sort code and bank card for the bank you're switching away from to hand. And check that all of your personal information is up to date at both ends. Head to the 'Account' tab in the Monzo app. On iOS, tap your name, on Android, tap the 'Settings' icon. Simply click 'Switch to Monzo' and they'll guide you from there. It couldn't be easier!
How does Monzo compare to other app-based banks?
We compared 5 app-based banks, taking into consideration Monzo bank reviews from customers who have had first-hand experience with the apps. We rank providers exclusively on customer experience and product quality and the below table shows you how Monzo compares to its competitors.