What is Starling Bank?
Starling Bank is a fully-licensed app-based bank with the aim of giving customers a fairer, smarter and more human alternative to traditional banks.
How does Starling Bank work?
Like all app-based banks, Starling Bank works via an app that can be downloaded for both Android or iOS devices. It works just like a regular bank with some extra benefits. You'll be able to withdraw money, set up direct debits and deposit money. You'll get instant notifications to your device every time you withdraw or deposit money, so you can easily track your spending. However, you won't be able to visit a branch. If you have any issues with your account or need to ask a question, you can contact Starling Bank anytime in the in-app chat or if you'd rather speak to someone, you can ring them.
What accounts does Starling Bank offer?
Personal account
The Starling current account is completely free. You won't be charged for making electronic payments, domestic transfers or ATM withdrawals.
Teen account
An account specifically tailored to teenagers, Starling Bank's teen account provides better banking for 16 and 17 year olds.
Joint account
Perfect for couples or friends who share financial commitments, the Starling joint account allows you to manage collective expenses such as bills, rent and savings. You can open a joint account in minutes as long as you both have a Starling personal account and are nearby one another. The joint account scanner will locate them and all they have to do is find you and accept. It's as simple as that.
Euro account
Starling Bank's euro account is ideal for people that want to hold euros in their UK bank account, people who need to send and receive euro payments, European expats who want to send money back home to friends and family, people who get paid in euros but are based in the UK and UK citizens who have a property in Europe. With Starling Bank's euro account, it's free to hold, receive and send euros and there are no monthly fees.
How do I open a Starling Bank account?
Opening a Starling Bank account is quick and easy as long as you're over 18 and a resident in the UK. In order to open a personal current account, you'll need your smartphone and proof of ID in the form of a passport or UK driving licence.
First, you'll need to download the Starling Bank app from the Apple App Store or Google Play Store. Once it's downloaded, you'll be prompted to enter your mobile number and verify it with the code sent to you. Then you'll need to enter some personal details including your name, date of birth, email address and home address. The final step is to verify who you are, this will include recording a short selfie video and submitting a photo of your ID. Starling Bank will then carry out some quick checks at a UK Credit Reference Agency. If you're approved, you can enjoy the many features the app has to offer instantly and you can order a new contactless Mastercard debit card via the app. This should arrive in 3-5 working days. If you want to start spending straight away, you can add your card instantly to your Apple Pay, Google Pay, Samsung Pay, Garmin Pay or Fitbit Pay before your physical card arrives.
What does the app look like?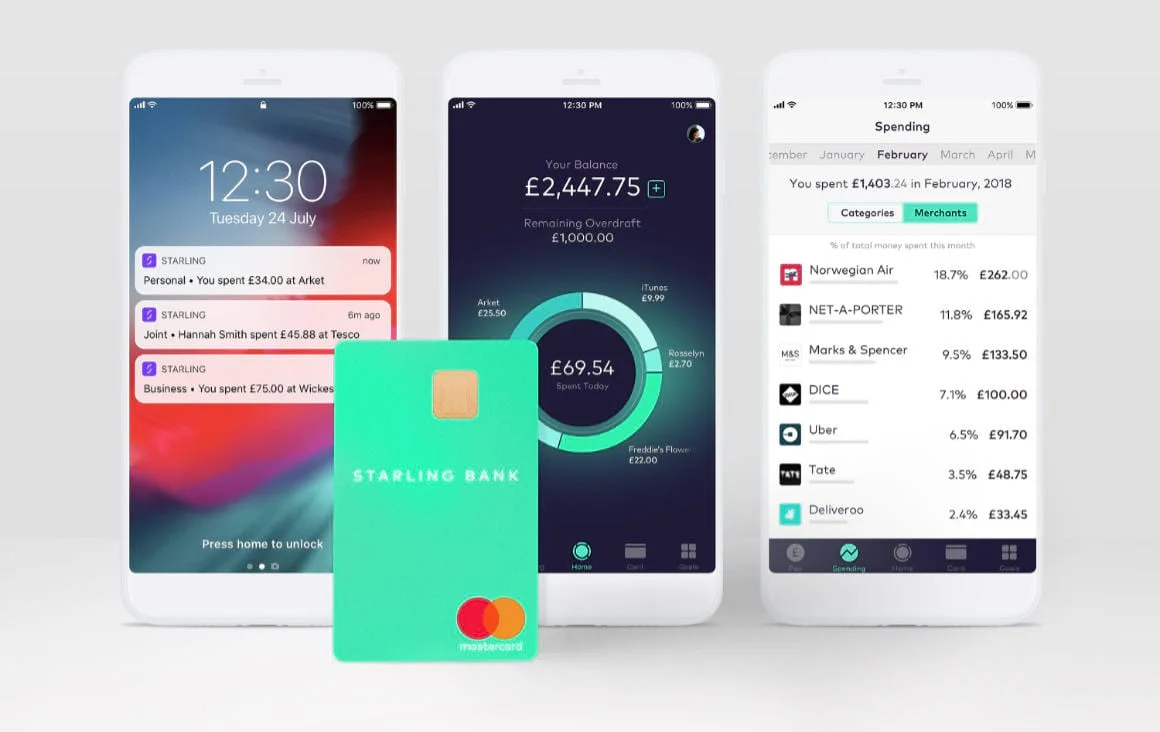 What features does Starling Bank offer?
Instant notifications

– get real-time alerts to your phone whenever money enters or leaves your account.

Goals

– a fun and visual way of saving money. Set a target amount for each goal and pay money into it whenever you want.

Nearby payments

– transfer money to nearby Starling customers without needing their account details.

Settle up

– if people owe you money, you can send them a link to pay you back, whether they're a Starling Bank customer or not.

Connected card

– give an additional debit card to someone you trust so they can buy whatever they need. The money is capped at £200 and comes out of a dedicated space set up in the app so you're always in control.

Spending insights

– get a monthly breakdown of your spending habits to see exactly how much you spend on groceries, holidays and transport amongst other things.
Does Starling Bank do credit checks?
Yes, as mentioned above, when you first open a Starling bank account they'll do a soft credit check at a UK Credit Reference Agency to check your eligibility. However, there are some occasions where Starling Bank will need to do a more detailed credit check, for example, when you want to take out a loan.
Can I get an overdraft or loan?
Yes, Starling Bank offers overdrafts and loans to its customers. They offer overdrafts of up to £5,000 on their current accounts. Interest is accrued daily at a rate of either 15%, 25% or 35% EAR (variable) based on a range of factors, including information from multiple credit reference agencies. It's easy to add an overdraft to your account in the app but it's worth bearing in mind that a Starling overdraft is a credit facility so it could affect your credit score.
You can also apply for a loan of up to £5,000 over six years. This can be done within minutes via the app. Once it's approved, you can see and spend the money straight away. Starling loans are built for taking the pressure off bigger expenses such as a wedding, home improvements, travelling or a new car. The interest rate will be tailored to you and there's no hidden fees on top. You also won't be charged any additional fees if you want to pay it back early. Starling Bank's loans are rated 5 Star by Defaqto.
Currently, Starling Bank's loans and overdrafts are connected, meaning that if you're approved for a loan, you're able to borrow as much as you have left in your entire available overdraft. So for example, if you have a £4,000 overdraft with £2,000 available to spend, you can turn anything up to £2,000 into a loan. Starling Bank will just reduce your overdraft by whatever you borrow and when you've paid it back, they'll bump your overdraft back up again.
Does Starling Bank pay interest?
Yes, Starling Bank pays competitive interest rates on their current account balances. They pay 0.05% AER up to £85,000.
Can I use Starling Bank abroad?
You can use your Starling card in more than 190 countries. There are no fees or charges for using your card overseas, it's also free to withdraw cash from ATMs outside the UK (although you may still be charged by the ATM provider). All card payments overseas are converted into GBP using the Mastercard rate. When using your card abroad, always choose to pay in local currency to obtain this rate.
Can I pay cash and cheques into my account?
You can deposit cash and cheques into your Starling account. Cheques can be deposited easily in the app. Simply select 'Add money', then 'Cheque deposit'. You'll be prompted to take a clear photo of the cheque and upload it. You'll get a push notification when the cheque has cleared (normally two working days after you deposited it), so hold onto the physical cheque until this comes through. Cheques deposited in the app are limited to £500 in value and for personal, joint and sole trader accounts, you can deposit up to four cheques a week. If you have a business account, you can deposit up to ten cheques a week. If you need to deposit more than four cheques, you can send them to Starling for free. Simply put the cheque in an envelope addressed to 'Freepost STARLING' with your surname and eigh digit Starling account number on the back of the cheque.
Unfortunately, you can't just take a photo of your cash and have it appear in your Starling Bank account (although that would be the dream!). Depositing cash into your accounts easy and can be done at any Post Office branch. If you have a personal or joint account, it's free. For business accounts or a sole trader accounts, there's a 0.3% charge for each deposit. Simply insert your debit card at the counter, confirm the amount and the cash will be available instantly for you to spend.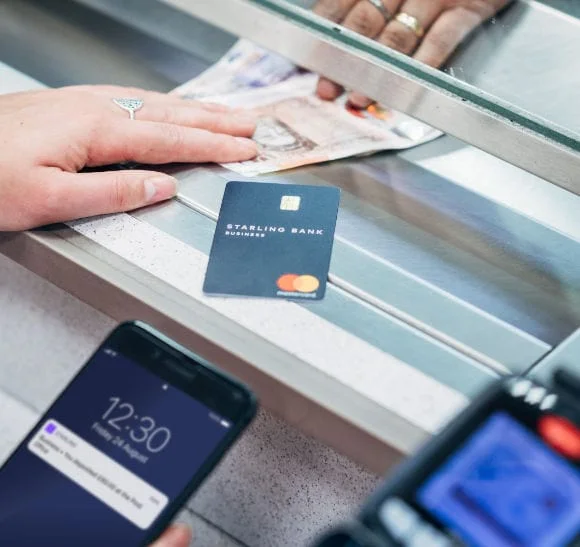 Starling Bank is covered by the Financial Services Compensation Scheme (FSCS), which covers up to £85,000 of your money if the bank were to go bust. Starling Bank is also regulated by the Financial Conduct Authority (FCA) and has adhered to the Contingent Reimbursement Model (CRM) code, a voluntary industry code means you're entitled to a refund for any unauthorised payments made from your account. You'll also be refunded if you're tricked into sending money to scammers voluntarily, for example, someone pretending to be a part of your bank's security team. However, this is on the bases that you haven't given out any personal information, for example, your PIN.
Starling Bank also have several security features protecting the app and card. You can only access the app with a passcode, fingerprint recognition or face recognition. If you lose your card, you can deactivate it immediately in the app and customer services are available in the in-app chat to help you. Also, instant notifications to your device mean you're instantly alerted to any payments you don't recognise.
Can I switch to Starling Bank?
Yes. It couldn't be easier to switch to starling Bank with the Current Account Switch Service (CASS). If you already gave a Starling personal or joint account, simply go to the 'Account Management' option in the top right corner of the app, scroll down and select 'Switch to Starling'. Select a switch day, agree to the terms and conditions and Starling will deal with the rest. It's that simple.
They manage the entire switch for you, for free, within seven days. Starling Bank will transfer all the money from your old account into your Starling account and also move all of your incoming and outgoing payments, direct debits and standing orders. They even close your old account so you don't have to worry.
How does Starling Bank compare to other app-based banks?
We compared 5 app-based banks, taking into consideration reviews from customers who have had first-hand experience with these apps. We rank providers exclusively on customer experience and product quality and the below table shows you how Starling Bank compares to its competitors.