What does family holiday insurance cover?
The best family travel insurance covers you and your children for the same things that are covered in single trip travel insurance policies. This includes:
Legal costs – including cover for accidents that weren't your fault and accidents that were your fault.
Delayed flights – you're covered if your flights delayed in certain circumstances.
Medical conditions including repatriation costs – usually cover will be included for any medical treatment you need when you're abroad, however, if you've declared any pre-existing medical conditions, treatment for that particular condition will probably be excluded.
Trip cancellation – if you need to cancel your trip due to an illness or because your travel company has gone bust, you'll be able to make a claim.
Lost luggage and personal belongings – your personal belongings such as phones, cameras, luggage and cash are insured if they're lost or stolen, however, you need to ensure your policy covers the cost of your valuable items.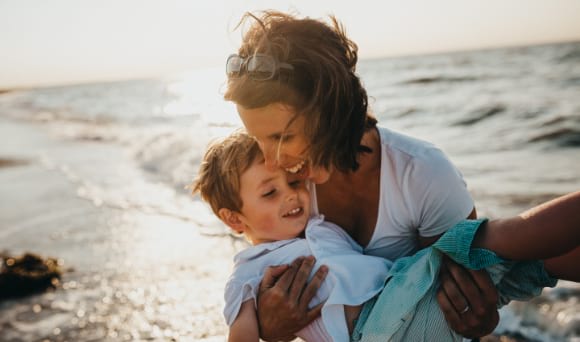 What are the benefits of family travel insurance policies?
Worldwide family travel insurance policies are simple, you only have to worry about taking out one policy for the entire family rather than multiple individual policies for each family member. They might work out cheaper and you may get more value for your money including:
More baggage cover, alternative accommodation and increased cancellation cover
Free cover for children
Adults may be able to travel without children during the policy term
What types of family travel insurance can I get?
You can choose between single trip family travel insurance or annual family travel insurance. Both types work the same way as standard travel insurance policies, the only difference is that they cover the entire family.
The type of policy that you decide to take out will depend on how often you travel as a family and how long you go away for. If you go on multiple trips a year together, an annual family travel insurance will probably be your best option. However, if you tend to go on weekend city breaks more than weekly holidays, you're probably better off taking out single trip policies each time.
Things to consider
How big is your family? - If you only have one child, it may be cheaper to take out a couple's travel insurance policy and an individual policy for your child.
Who's travelling? - You may end up invalidating your policy if members travel independently, you can find out more information about this in the terms and conditions of your family holiday insurance policy.
Do your children live at the same address as you? - Many family travel insurance policies only cover children who live permanently at the same address as the policyholder.
What other types of travel insurance can I get?
The type of cover you need depends on where you're travelling to, why you're travelling and who you're travelling with. Other types of travel insurance include:
Compare family travel insurance providers
When buying family travel insurance, we recommend that you read as many family travel insurance reviews as possible so you can get an idea of how different insurers handle claims. We're the first and only comparison site that ranks travel insurance providers exclusively on customer experience and product quality rather than price. Our full table of providers will give you an impartial and unbiased overview so you can purchase travel insurance from a high-quality provider that you can rely on when you need them most.
1st
Our
Review Score
9.4
/10
based on 289216 reviews

Medical Cover Limit***
No limit
Cancellation Cover Limit****
£5k
2nd
Our
Review Score
9.2
/10
based on 294390 reviews

Medical Cover Limit***
£15m
Cancellation Cover Limit****
£5k
3rd
Our
Review Score
8.9
/10
based on 74926 reviews

Medical Cover Limit***
£20m
Cancellation Cover Limit****
£3k